Web Applications
install Joomla Wordpress Phpbb Drupal FluxBB PunBB osCommerce simple-machines MYBB moodle vBulletin Dolphin-v.7.1.1 PHPNUKE XOOPS
Services
install BorkNet Services X3 Services Anope Atheme Services Srvx IRC Srervices
IRCD
install Snircd IRCU INSPIRCD UNREAL Nefarious Bircd Bahamut Asuka Charybdis
TCL SCRIPT
TCL SCRIPT FOR EGGDROP Allprotection4.7 Antiproxy
Bots
Bots install FishBot bobot++ Eggdrop janus Omega Security Services Botnix Bopm SupyBot PyLink Hopm
April 2019
| Mon | Tue | Wed | Thu | Fri | Sat | Sun |
| --- | --- | --- | --- | --- | --- | --- |
| 1 | 2 | 3 | 4 | 5 | 6 | 7 |
| 8 | 9 | 10 | 11 | 12 | 13 | 14 |
| 15 | 16 | 17 | 18 | 19 | 20 | 21 |
| 22 | 23 | 24 | 25 | 26 | 27 | 28 |
| 29 | 30 | | | | | |
Calendar


config Inspircd+atheme 7.2.4
Hello people mIRCx IRC Network Choose to let people who are just starting to use the files ready
and you can download all config but Do not forget to change this information to your IP number and address of your server.
explain inside to you inspircd.conf and change ip and port for services
after this go to link.conf and change some informtion
ok after this you need inside to atheme.conf and change uplink and  select protocol inspircd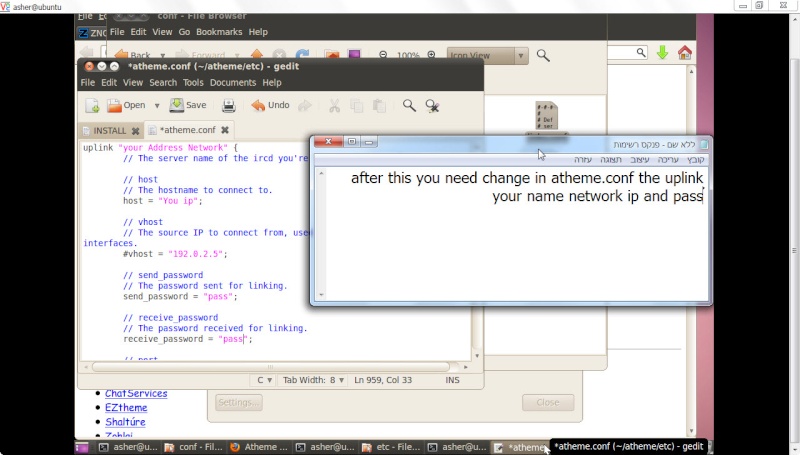 you welcome download the config inspircd and atheme
http://f2h.nana10.co.il/czy8qotgjvb9
or from here
https://sourceforge.net/projects/configservices/
this for people start with IRCD Enjoy
config By mIRCx Staff
more config update in inspircd2.0.19 with a new module antibotctcp for This module blocks any type of floodbot/spambot but it may kill
* legitimate users with broken clients so use it at your own risk.
credit to Nikos
is have inspircd-2.0.19 only you need is configure and change ip and pass and everything ready
download
http://www.f2h.co.il/eih4sbn9r1
inspircd-2.0.19
or Download inspircd2.0.20 ready only need configure
http://www.f2h.co.il/o2ki2qidmsfs
inspircd-2.0.20
update config inspircd+atheme-services & PyLink
Hello people mIRCx IRC Network make update config to people start with inspircd and run atheme the first time.. in config we make some fix in inspircd.conf mode history channel and more.. more thing you have config atheme.conf for version 7.2.6 and PyLink a link run in inspircd you need fix config there and read please in readme to download
http://www.f2h.co.il/hhbnvfczw815
the config fix By mIRCx IRC Network
or from here
http://www.f2h.co.il/ir8zfiyzt1hl
inspircd config and some a modules
or
atheme+modules
http://www.f2h.co.il/jp90w0c89f4

for a question mircx123@gmail.co.il
enjoy
Hello everyone if do you firs time you try run inspircd and atheme services you are welcome download the config with a some modules the config is fix by us mIRCx and only you need download inspircd 2.0.21 configure and change a folder
to download
config and module inspircd 2.0.21
http://www.f2h.co.il/10vmt6efibsw

config and modules atheme 7.2.6
http://www.f2h.co.il/hnai3v5yrrbv
thanks and credit to itzik Admin Network in mircx
enjoy!!
or you can download from here
inspircd-2.0.21
http://www.f2h.co.il/ikzhhuhxgv
atheme
http://www.f2h.co.il/p043wrbg42
two download is for linux
_________________________________________________________________________
or if do you use with Windows 7 you are welcome download inspircd for windows 7 with options ssl
all config is fix only you are need change ip to your ip
to download inspircd 2.0.20 for windows
http://www.f2h.co.il/efea7y267yg9


Similar topics
---
Permissions in this forum:
You
cannot
reply to topics in this forum