Web Applications
install Joomla Wordpress Phpbb Drupal FluxBB PunBB osCommerce simple-machines MYBB moodle vBulletin Dolphin-v.7.1.1 PHPNUKE XOOPS
Services
install BorkNet Services X3 Services Anope Atheme Services Srvx IRC Srervices
IRCD
install Snircd IRCU INSPIRCD UNREAL Nefarious Bircd Bahamut Asuka Charybdis
TCL SCRIPT
TCL SCRIPT FOR EGGDROP Allprotection4.7 Antiproxy
Bots
Bots install FishBot bobot++ Eggdrop janus Omega Security Services Botnix Bopm SupyBot PyLink Hopm
April 2019
| Mon | Tue | Wed | Thu | Fri | Sat | Sun |
| --- | --- | --- | --- | --- | --- | --- |
| 1 | 2 | 3 | 4 | 5 | 6 | 7 |
| 8 | 9 | 10 | 11 | 12 | 13 | 14 |
| 15 | 16 | 17 | 18 | 19 | 20 | 21 |
| 22 | 23 | 24 | 25 | 26 | 27 | 28 |
| 29 | 30 | | | | | |
Calendar


Guide load plugin in Supybot 0.83.4.1+limnoria  on windows and Unix
ok today i show to you how we load plugin from Unix and Windows and this very Different
first time if you used with supyBot on linux you need install the plugin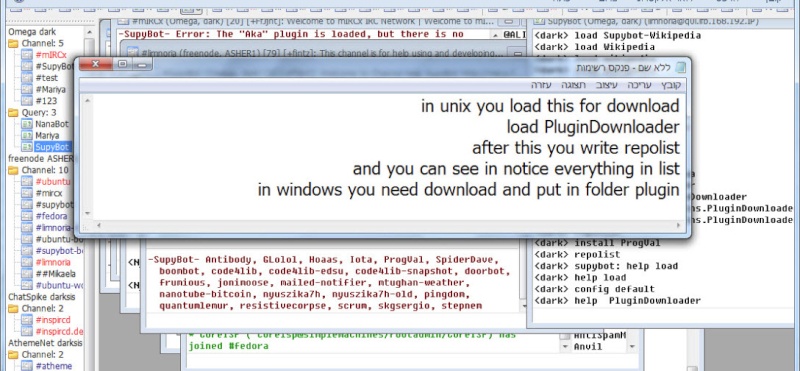 Code:


load PluginDownloader
repolist

if you see you can look about list and download from command like this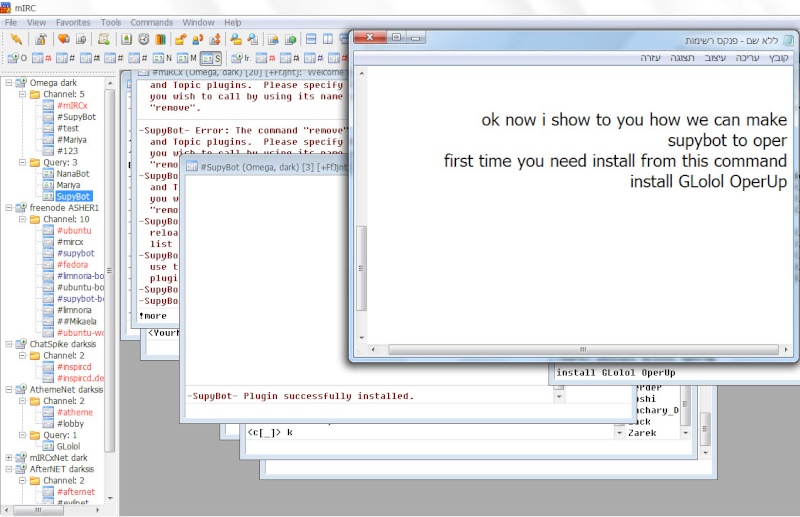 Code:


install GLolol OperUp
load OperUp

after this you need config your plugin more explain
if you see Error like this you need before write your config
Code:


config plugins.operup.operpass
config plugins.operup.opername
config plugins.OperUp.opernets Omega
config plugins.operup.opername Admin
config plugins.operup.operpass 123456
config plugins.OperUp.opernets Omega
config supybot.plugins.OperUp.autoOper True
operup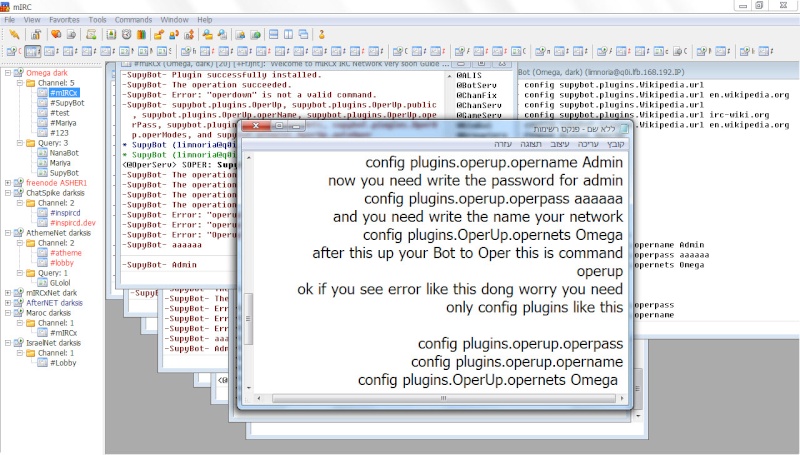 if do you see when you restart your Bot then he auto up to oper
step2
now about command your Bot can make everything in your Network if you used with Aka Command or Alias then you need load two things
Code:


install ProgVal Aka
load Aka

after you load Aka you can set command if you Admin in your Network and you want kill client from your Bot
you can set command to your Bot like this
Code:


aka add kill "ircquote kill $1 :$*"
kill mircx reason

step3
if do you want your Bot banned someone from your Network this mean like ZLINE OR GLINE whatever then you need again write to Aka command and you can set zline on client from your Bot this look like this
Code:


aka add zline "ircquote ZLINE $1 $2 :$*"
zline mircx 43434 reason
aka add GLINE "ircquote GLINE $1 $2 :$*"
Gline mIRCx 43434 ByeBye my friend!


ok after this if do you want select more command to your Bot you can do this like

Code:


aka add samode "ircquote samode $1 $2 :$*"
samode #mircx +o SupyBot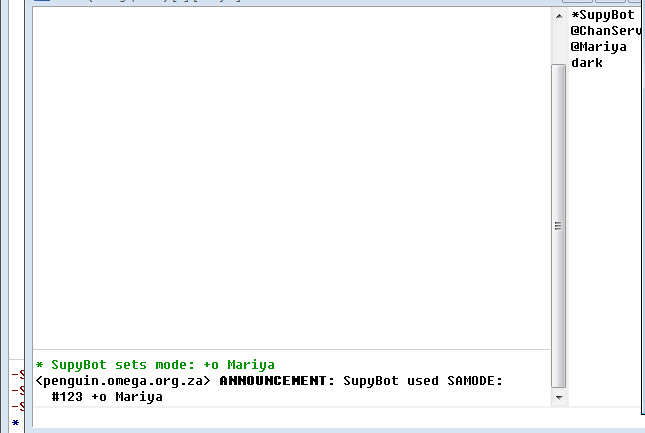 if you want you have very much command and select more command like Sakick
Code:


aka add SAKICK "ircquote SAKICK $1 $2 :$*"
sakick #SupyBot mircx



Code:


aka add mode "ircquote mode $1 $2 :$*"
mode #SupyBot +w a:mircx*!*@*


Code:


aka add SETHOST "ircquote SETHOST $1 $2 :$*"
sethost SupyTopy.mIRCx SupyBot


Code:


aka add OJOIN "ircquote OJOIN $1  :$*"
ojoin #SupyBot

when you want remove something from Aka then you can used with this
Code:


list aka
aka remove kill


Code:


aka add CBAN "ircquote CBAN $1 $2 :$*"
CBAN #123 3h4m5s gg


Code:


aka add SAQUIT "ircquote SAQUIT $1 $2 :$*"
saquit mircx see you

more thing and is new now you can now make to your bot auth to Q in Quakenet and used with your bot for other things
Code:


load Quakenet
@config plugins.quakenet.authname younick
@config plugins.quakenet.password yourPassword
@quakenet auth

ok for Hidden your host in bot you need inside to config and write there +x
supybot.protocols.irc.umodes: +x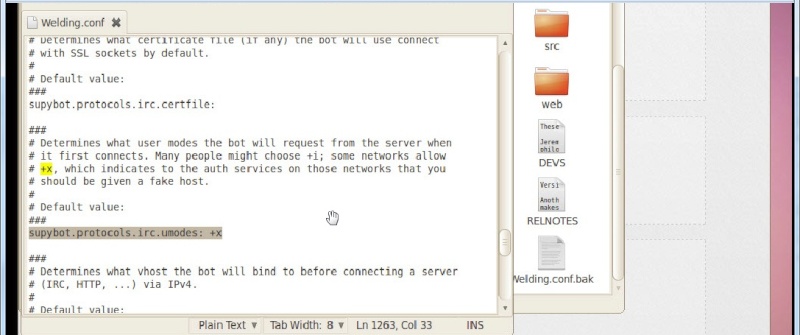 more command if do you want your bot to other network then write command to your Bot
Code:


@network connect quakenet irc.quakenet.org:6667
@network disconnect quakenet irc.quakenet.org:6667

more thing with Aka you can set from Aka oper for your Bot
Code:


@aka add oper "ircquote oper $1 $2"
//msg Dogi oper Admin 123456

and more command for the bot if you run Services like X3 or Borknet then you can set for your Bot mode
Code:


@aka add umode "owner ircquote mode [utilities echo $botnick] $1"
//msg RoBot umode  +X

more commands Limnoria if do you want set in your channel notice when client inside to your channel then load it
Code:


@load Herald
@herald default Welcome to Limnoria SupyBot

and you need doing it also
Code:


@config search notice
@load Note

more commands if do you want find your friend in a Network then write it
Code:


@load Seen
@seen #mIRCx darksis*

to Download
https://github.com/GLolol/Supybot-Quakenet
http://www.f2h.co.il/ynobcb2ygrhm
very much Thanks and credit to  Glolol about fix this for Limnoria
all command to SupyBot Good to Opres and Admin for windows you need download plugin and put in folder
Good Luck!!
Creadit and Big thanks to GLolol and Mikaela about Help
Freenode
Guide By mIRCx IRC Network
for windows you can download plugins for oper in here
http://www.f2h.co.il/fygdzs00chaf
http://www.f2h.co.il/paz54izw1n2y
Admin




מספר הודעות

: 226


Join date

: 2011-12-09


מיקום

: mIRCx IRC Network





Similar topics
---
Permissions in this forum:
You
cannot
reply to topics in this forum