Web Applications
install Joomla Wordpress Phpbb Drupal FluxBB PunBB osCommerce simple-machines MYBB moodle vBulletin Dolphin-v.7.1.1 PHPNUKE XOOPS
Services
install BorkNet Services X3 Services Anope Atheme Services Srvx IRC Srervices
IRCD
install Snircd IRCU INSPIRCD UNREAL Nefarious Bircd Bahamut Asuka Charybdis
TCL SCRIPT
TCL SCRIPT FOR EGGDROP Allprotection4.7 Antiproxy
Bots
Bots install FishBot bobot++ Eggdrop janus Omega Security Services Botnix Bopm SupyBot PyLink Hopm
April 2019
| Mon | Tue | Wed | Thu | Fri | Sat | Sun |
| --- | --- | --- | --- | --- | --- | --- |
| 1 | 2 | 3 | 4 | 5 | 6 | 7 |
| 8 | 9 | 10 | 11 | 12 | 13 | 14 |
| 15 | 16 | 17 | 18 | 19 | 20 | 21 |
| 22 | 23 | 24 | 25 | 26 | 27 | 28 |
| 29 | 30 | | | | | |
Calendar


Guide install osCommerce on Ubuntu
ok today we learn  when install OsCommerce on ubuntu step by step
step1
before download we need Create new database oscommerce and inside to Terminal and write............
Code:


cd /var/www
wget http://www.oscommerce.com/ext/oscommerce-2.2rc2a.zip
unzip oscommerce-2.2rc2a.zip
mv oscommerce-2.2rc2a/catalog/* .

after last command you need install  and this look like this
step2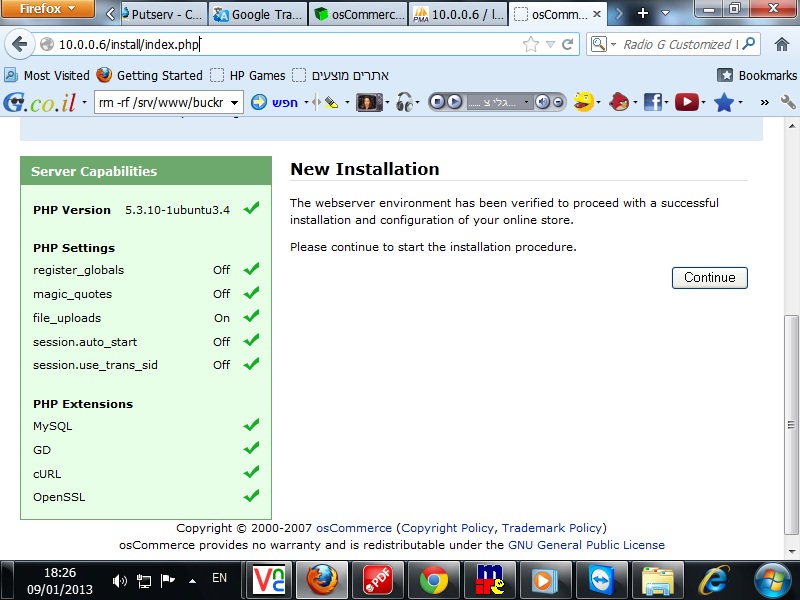 if you see all Server Capabilities is ok then you can click in continue
step3
if you see you need write your Database Server and wait for ok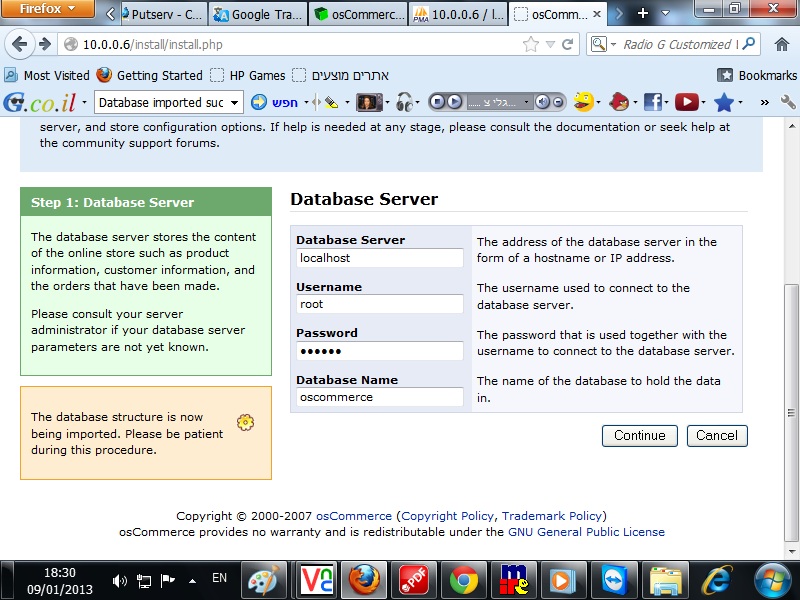 step4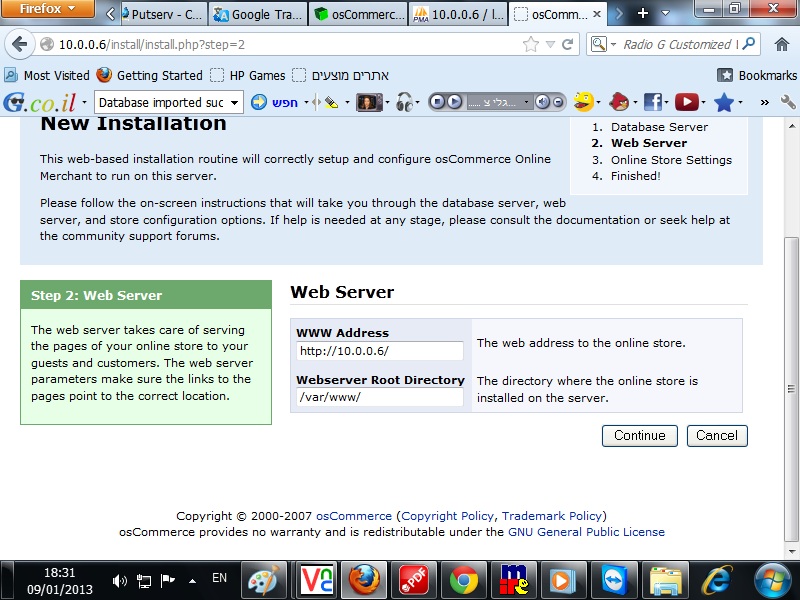 in here you can write you Web Server and click in continue to Next...........
step5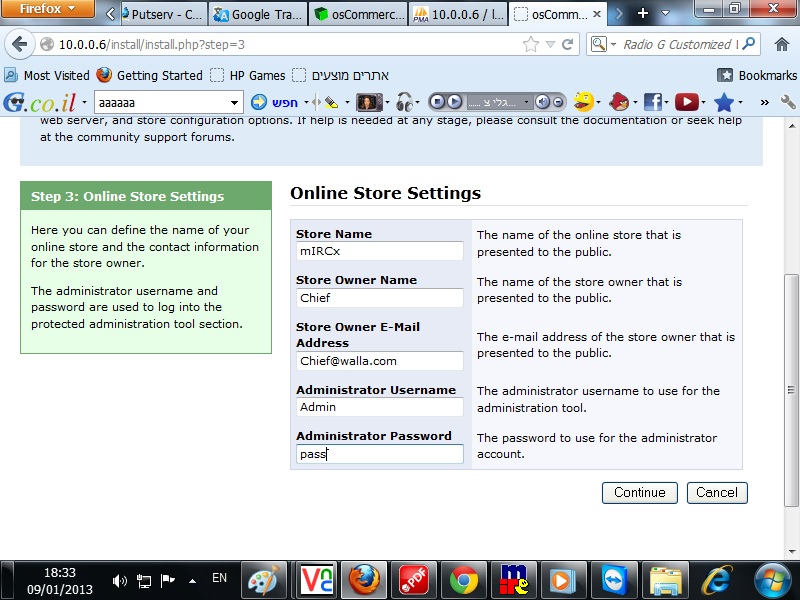 in here you need write name your forum and password and your email
step6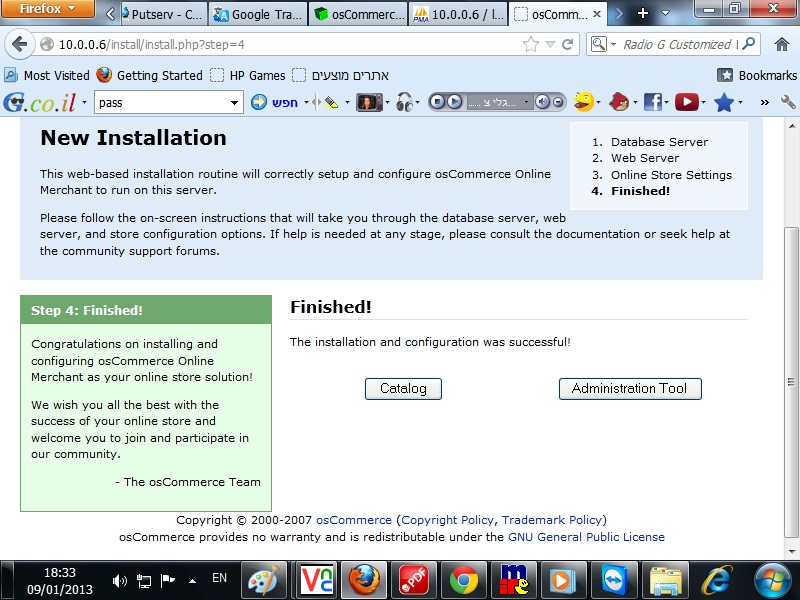 and after you need click in Catalog and if you see Warning like this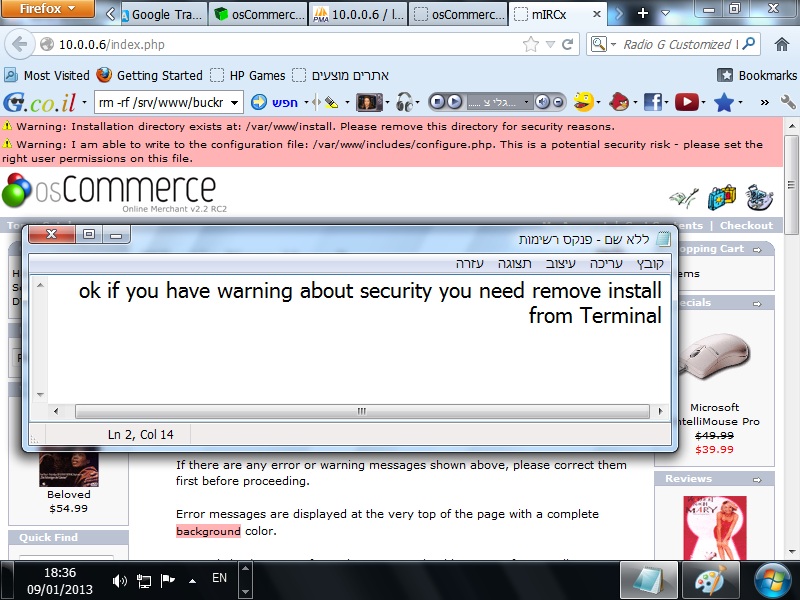 write in Terminal
Code:


rm -rf /var/www/install
chmod 644 /var/www/includes/configure.php
chmod -R 777 /var/www/images
chmod -R 777 /var/www/admin/images/graphs
chmod -R 777 /var/www/admin/backups

Good luck!!
Guide By mIRCx Staff
www.mIRCx.co.il
mIRCx the old Community
Admin




מספר הודעות

: 267


Join date

: 2009-09-12


Age

: 38


מיקום

: mIRCX IRC Network




---
Permissions in this forum:
You
cannot
reply to topics in this forum